It's September and the corporate world is officially 'back-to-work'. As people fill up the offices again, re-energised from their summer break, we thought we'd look at a topic that is very important to us: lunch. Like holidays, we think having a proper lunchbreak is important for productivity and wellbeing.
And the science backs this up. In one study using memorisation tasks to measure focus and performance, participants were divided into two groups. One group had breaks and the other didn't. You guessed it - the group that were given breaks from the tasks performed significantly better.1
However, despite the evidence, lunchbreaks are under pressure. Mooncard's study with IFOP found that 1 in 2 employees don't feel they have enough time for a proper lunchbreak. The phenomenon is seen across industries with construction employees feeling the most pressed for time at lunch (61%), and those in IT services finding the best balance with 'only' 40% not able to take the break they need.2
So if you were thinking about how to increase your productivity this September, maybe consider taking a break! Here are some of our favourite ways to step away from the computer at lunch, from a quick 20 minutes to a full hour.
20 minutes
Prepare a fresh lunch if you're working from home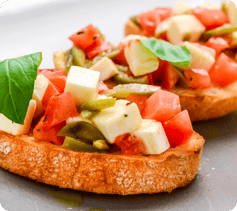 Keep the summer vibes going with this easy, healthy tomato bruschetta recipe. Vine-ripened tomatoes are best and don't forget the garlic to make the flavours really sing.
This recipe recommendation comes from Alexis, our outbound growth specialist - he's French and takes lunch very seriously, so you know this it's a good one.
40 minutes
Exercise to boost your mood and productivity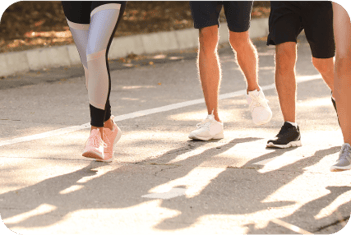 Take the opportunity to get some steps in with a walk, jog, or run. According to a study of over 750 office workers, exercise at work correlated to a more positive mood, which led to higher performance indicators on those days.3
So if you feel like lacing up your trainers, we rate these 40-minute running plans from Runner's World. They have variations for different objectives so they can be independent sessions or complement an existing training programme.
Our commercial team are the runners in the office - their top tip is to chat and run. Not just because they're a sociable bunch, but because it helps identify your easy pace to warm up at before increasing your speed (if you want).
60 minutes
Organise a Brown Bag Lunch (BBL)
The concept of a Brown Bag Lunch is a lunchtime talk where someone introduces their area of expertise. Everyone brings their own lunch (brown bag optional) and the host company buys the speaker lunch as a thank you.
If the real-deal sounds interesting, this blog article explains how to set up a BBL in 60 minutes and you can search for speakers on the dedicated BBL website here.
Alternatively, why not start by organising talks from different teams in your company, or even selecting a pre-recorded talk to watch as a group. Topics can be as varied as you like. For example, we enjoyed giving our neurons a work-out with this talk about machine learning and AI.
See you next week for more ways you can use the minutes you saved with Mooncard.
The Mooncard Team
Sources 🤓
University of Illinois at Urbana-Champaign. "Brief diversions vastly improve focus, researchers find." ScienceDaily. ScienceDaily, 8 February 2011. <

www.sciencedaily.com/releases/2011/02/110208131529.htm

>.
Based on a survey of 1000 French employees. You can download the full results from the link on the right-hand side of this article.

Coulson, J.C.

,

McKenna, J.

and

Field, M.

(2008), "Exercising at work and self‐reported work performance",

International Journal of Workplace Health Management

, Vol. 1 No. 3, pp. 176-197. https://doi.org/10.1108/17538350810926534
---
Over 5000 companies use Mooncard to reclaim their time for better things than expense reports. Want to join them? Check out our website here, or simply fill in this form to request a personalised call from one of our experts to discuss how we can help optimise your business expense process.