Your business expenses make you travel
Miles accumulated with each purchase

Up to 21,000 welcome Miles

Extending the validity of your Miles

Miles for professional or personal use
The French card that earns you Miles for every business expense
You earn Miles with every purchase
• Each euro spent for your company earns you Miles in addition to those in your personal Flying Blue account (€ 10 spent = up to 15 Miles accumulated) from the first euro spent.
• Your welcome bonus allows you to buy your first plane ticket: 7,000 Miles for a Mooncard and 21,000 for a Mooncard X.
• Bonuses throughout the year and partnerships allow you to accumulate Miles faster.
• Each professional purchase made with your Mooncard extends the validity of your Flying Blue Miles by 2 years.
What to do with Flying Blue Miles?
• Book plane tickets on Air France, KLM and Transavia. One-way ticket available from 6,000 Miles for Europe on Air France.
• Improve your in-flight comfort: Treat yourself to an upgrade, a more comfortable seat, an elaborate meal or wait for your flight in the elegance of a SkyTeam airline lounge.
• Rent a car or book hotel nights with Flying Blue partners.
• You don't have a trip planned? Use your Miles to buy yourself a gift on the Flying Blue Store.
All our payment cards are linked in real time to the 100% online management application.


Whether it is to monitor expenses in real time, set up cards, manage accounting or even add new users, everything happens via the 100% online management application.
Find out more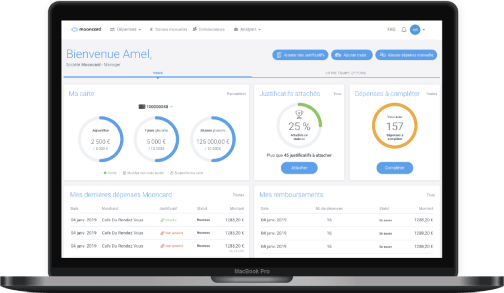 Fonctionnalités
Gestion des notes de frais
Gestion des notes de frais

Gestion des frais professionnels
Des cartes nouvelle génération
Tableaux de bord multi-critères

Historique des relevés bancaires

Personnalisation des codes affaires / analytiques

Personnalisation des natures de dépense

Intégration plan de nature de dépenses

Historique des relevés bancaires

Refacturation des dépenses

Fichier de dépenses Excel, CSV ou PDF

Rapprochement bancaire automatique
Une offre complète
Assurance incluse et optionnelle (intégrale)
Comptabilisation automatisée
Gestion plan comptable par nature

Schémas comptables personnalisables notes de frais

Schémas comptables personnalisables dépenses professionnelles

Gestion auxiliaire comptes de tiers et charges

Libellés et pièces paramétrables

Intégration plan comptable externe

Contrôle en temps-réel des paramètres comptables
Une comptabilisation puissante
Gestion analytique par code analytique ou compte

Code et compte analytique par collaborateur, dépense

Comptabilisation dépenses refacturables

Comptabilisation des dépenses sans justificatif

Visualisation / historisation des écritures comptables
Une gestion automatisée de la TVA
Gestion TVA par taux et par mois

Gestion autoliquidation de TVA
Tous les logiciels comptables
Structure de fichier écritures comptables paramétrables

Exports comptables pré-paramétrés : Sage 100, Sage 1000, X3, Coala, Ibiza, Quadratus, Ciel, EBP, etc.
Conditions tarifaires
Notifications par SMS : Gratuit

Rappel code PIN : Gratuit

Frais de tenue de compte : Gratuit

Frais d'émission : 9.90€ HT / carte
Frais et suppléments
Paiement en Zone Euro : Gratuit

Paiement Hors Zone Euro : 3% Taux de change appliqué par Visa

Retrait dans un distributeur zone euro : 2.5€ par retrait + 1.75% du montant de la transaction.
Minimum : 4€

Retrait d'espèce en devise hors zone euro : 2.5€ par retrait + 1.75%du montant de la transaction + Frais de change : 3%.
Minimum : 4€ Taux de change appliqué par Visa

Frais de rejet de prélèvement : 20€ HT
Services - Formations
Alimentation par virement bancaire ou carte bancaire

Accès logiciel Saas : Nombre d'utilisateurs illimité

Assistance téléphonique de 9h à 19h les jours ouvrés

Gamme de formations : utilisateurs, administrateurs, projets (en option)
Need more information ?
Our team is available Monday to Friday from 9 a.m. to 7 p.m. to present the Mooncard solution to you and work with you to design a tailor-made quote corresponding to your business needs.
Be contacted